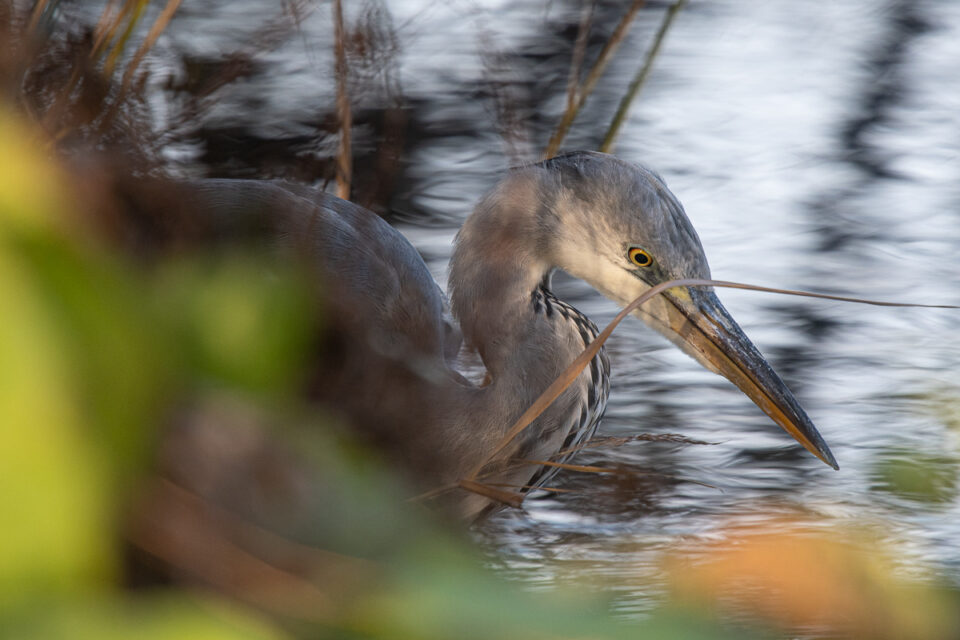 (Text in English in cursive)
Hägrar alltså. Gråhägrar närmare bestämt. Min absoluta favoritfågel att fota och beskåda. Stor, med mäktiga vingar, fantastisk fjäderskrud och alltid någonting som ter sig annorlunda än gången innan – varje gång vi ses. Flygande, gående, stående – till och med liggande. Om jag skulle göra en fotobok med bara ett motiv så skulle de blir denna pippi …
Och jodå, de ligger ner ibland som synes. Första gången jag såg det kändes det lite oroligt – tänkte om det var något fel, men det var helt enkelt några av dem som tröttnat på att stå på marken och sova hela långa vintern igenom, och det kan man ju förstå!
So, Grey herons. My absolute favourite bird to shoot and study. Big, with mightly wings, amazing plumage and always something that appears different from last time – every time we meet. Flying, walking, standing – even lying down. If I ever were to produce a photography book with only one motif it would be this bird for sure.
And yes, they do occasionally lie down as you see. The first time I witnessed this it made me a bit worried that something was wrong, but it was simply the case that some of them were tired of standing up sleeping all the time – and who can blame them.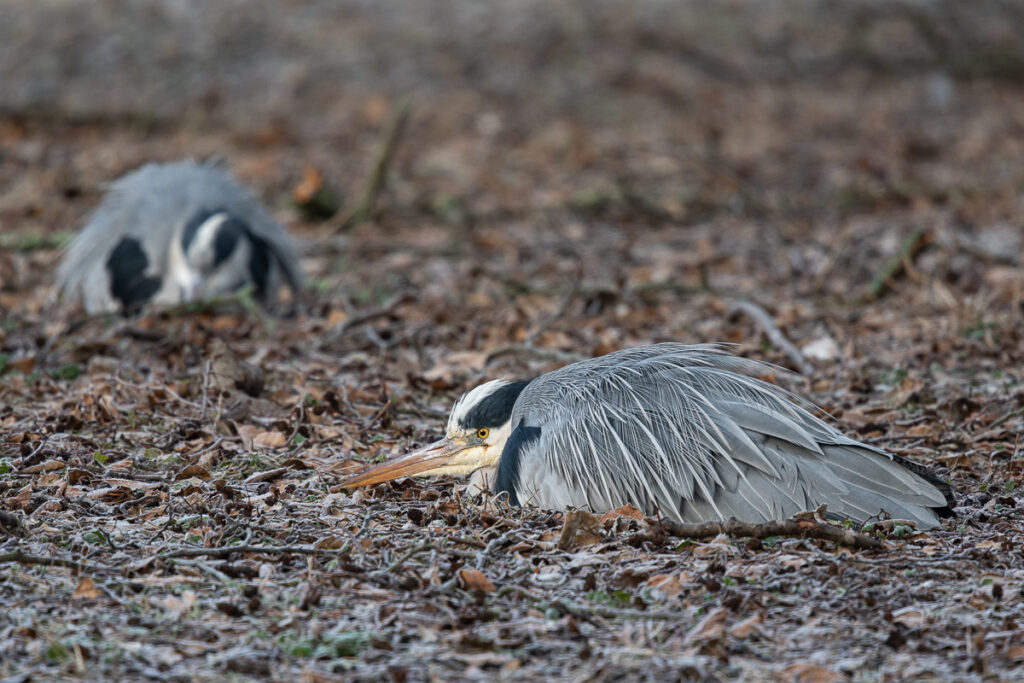 Min fascination för denna art har mycket att göra med att de framstår som något av förvandlingsartister. Stående och ihopkrupna kan de se så smäckra, nästan små ut, för att i nästa ögonblick rugga upp fjäderdräkten, sträcka på den enormt långa halsen och veckla ut de magnifika vingarna tills de är enorma.
My fascination for this species has a lot to do with them appearing to be transformation artists. Standing and crouching they can seems so slim, almost small, and then in the next moment ruffle their feathers, stretch that immensely long neck and unfold those magnificent wings until they appear before me as giants.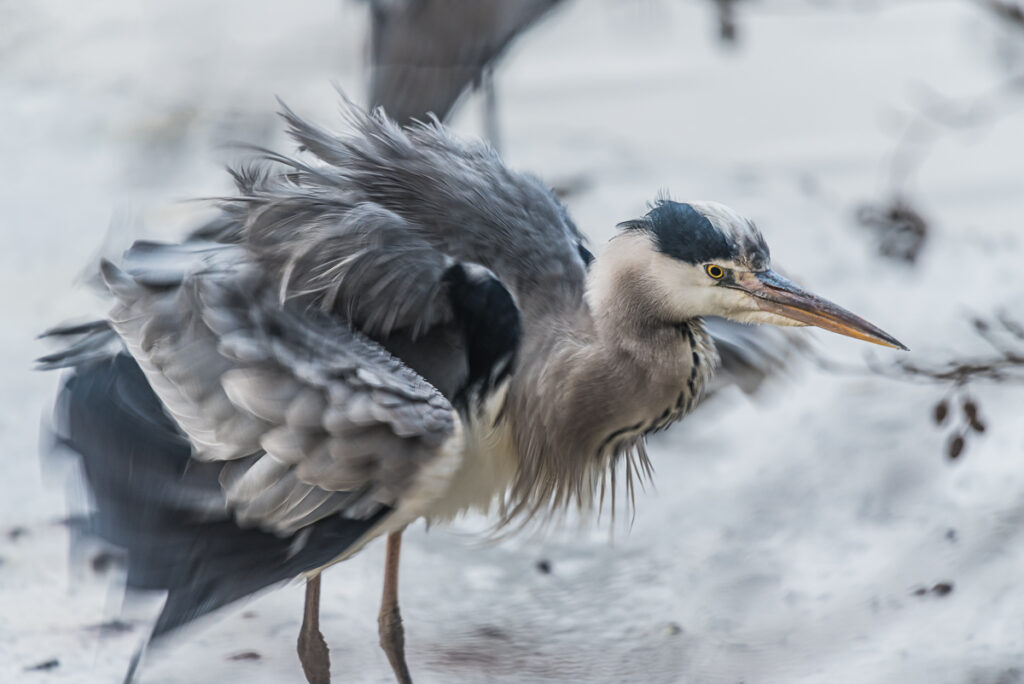 Till min stora glädje så bort jag bara någon timme från den plats där Stockholms hägrar tillbringar vintermånaderna. Räknade till minst hundra fåglar vid något tillfälle, och att de samlas i så stora antal beror på att de blir stödmatade så länge isen ligger på sjön. Sommaren tillbringar de på annan plats, byggandes bon högt uppe i träd och så. Har givetvis besökt dem även där, men det är vintermötena som mitt huvudfokus ligger på.
Hungern, matningen och den ständiga närheten till förbipasserande människor gör fåglarna tämligen orädda, och rör man sig försiktigt och med respekt för deras integritet som i grunden vilda djur så kan man komma dem ganska nära – men man går aldrig så nära att man stör. Aldrig. Man väntar, backar ibland, och låter dem bestämma vad som ska ske och när. För det mesta händer ingenting alls på väldigt länge, men rätt vad det är så uppstår under några sekunder en liten strid mellan två som plötsligt stör sig på varandra, och så blir det stilla igen.

Eller så sitter man nöjt och stilla på huk invid flocken på 30-40 individer, när någonting plötsligt stör gruppen som i all hast lyfter och lämnar fotografen ensam med de där två återstående gynnarna som forsätter med sitt stilla filosoferande som om ingenting hänt. Och fotografen är fortfarande nöjd.
Luckily, I live only an hour or so away from the location where the herons of Stockholm spend their winter months. I counted at least a hundred individuals at some point, and the reason for them gathering in such numbers is that they are feed (frozen fish) when the lake is frozen. They spend the summer elsewhere building nests high up i tree and such. I have paid them a few visits there as well, but it is the winter encounters that interest me the most.
The hunger, feeding and constant proximity to people make the birds fairly fearless. And if you move with caution and with respect for their integrity as wild animals you can get very close to them – but never so close that you disturb. Never. You wait, back away sometimes, and let them decide what will happen and when. Most of the time nothing at all happens for a very long time, but then suddenly for a few seconds there is a battle between two birds who are suddenly annoyed with one another. And then just as quickly things go quiet again.

Or you sit there happily cowering right next to the flock of 30-40 individuals when something suddenly disturbs the group which hastily takes off, leaving the photographer alone with those two originals who continue their quiet stare into the distance as if nothing has happened. And the photographer is still happy.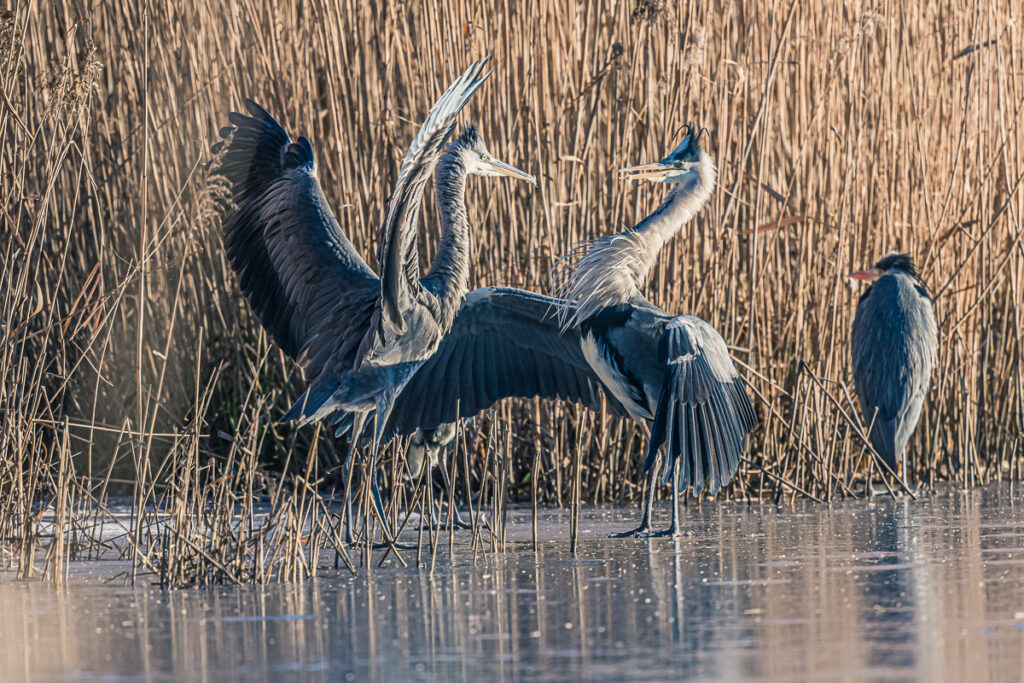 Bästa dagen hittills med hägrarna, och en av mina mest tillfredsställande fotovändor överhuvudtaget, hade jag en vinterdag för ett par år sedan. Det hade snöat hela lördagsnatten och gjorde så fortfarande när jag klev av lilla tåget och började pulsa bort till sjön och vinterkolonin. Var orolig att snöfallet skulle hinna upphöra, men inte då. Snön föll alltjämt och hägrarna var samlade och hungrigt väntande på dagens utfodring. En fotokurs med ledare hade också letat sig till platsen, och jag var inte sen att lite diskret hänga på när extramatning drog igång och skapade ett härligt kaos av vingar, näbbar och snö. En stund av ren och skär fotoglädje, och som resultat några av de bilder jag är allra mest nöjd med överhuvudtaget – finns numer i min portfolio och till försäljning här på hemsidan – om intresse skulle finnas alltså.

Vintern därpå var jag laddad till tusen för att göra om bravaden, men det blev liksom aldrig någon vinter, ingen snö som låg kvar, ingen is som lade sig mer än några få dagar på sjön. Och på det Corona-pandemin, som satte stopp för resandet i kollektivtrafik, och därmed även för några sista möten för säsongen med mina vänner. Men det kommer fler vintrar, och nya och gamla hägrar att möta och återupptäcka.
The best day so far with the herons, and one of my most satisfactory photography treks ever was occurred a couple of years ago in the winter. Snow had been falling all night and was still doing so on Sunday morning when I got off the local train and began to plod my way to the lake and the winter colony. I had been worried it might stop snowing before I got there, but luckily it did not. It kept snowing and the herons were gathered and hungrily waiting for breakfast. A photography group with a guide had also found their way to the spot, and I discreetly tagged along when extra breakfast was offered the birds and created a great chaos of wings, beaks and snow. A moment of pure photographic joy, and as a result some of the photos I am most pleased with having taken so far – incidentally also available in my portfolio and for sale on this site should there be interest.

The next winter I was so looking forward to an opportunity to do this again, but sadly winter never came. No snow on the ground, no ice on the lake. And on top of that the Corona pandemic which put a stop to travelling by public transport, and to the last opportunities of the season to meet with my feathered friends. But there will be more winters, and new and old herons to meet and rediscover I'm sure.